Another transported thread............
As a 13 yr. old I got a job at the local "commercial" track (Lorne Park Raceway),..........well, I call it a job, even though it was really cleaning the bathrooms, and restocking the chip and chocolate bar shelves.....( I think I washed my hands most of the time
) ....this was the best I could do as I was too inexperienced to be allowed to work on the cars or really be of any help to the customers. But, it did give me free track time, some needed pocket money, and most importantly to me, I got to hang around and learn from the "fast" guys.
As my scratchbuilding skills at this age were really far from great, I was saved by "Champion of Chamblee" when in 1968 they launched their line of ready built 4 rail chassis , the #285 for 16D motors, and the #286 for 26D motors. At the time these were the closest you could get to "scratchbuilt" performance straight off the shelf, and after cleaning many a bathroom, I finally had enough dough to buy one. For some reason, I chose the #286, which was for the 26D motor.....(it was not long before I realized that the #285, for the 16D would have been the better choice).......anyway, I loved the car, and while neither I or my car could compete with the "big" guys, I certainly got a lot closer than I had ever been.
These ready built chassis' were a saviour to the less experienced builder, and while they were very good, they were soon made obsolete (1969/70) with the advent of the "off the shelf" wire and brass anglewinder chassis. Luckily, by 1970 I was able to build half decent chassis' myself.
That car has lone since gone, and a few years ago, I managed to find a NOS Champion #286 chassis, and the bits, to build another......a little nostalgia tugging at me.
Cheers
Chris Walker
I painted the body to somewhat resemble what I remember of the original, and as it won't be raced in anger, I did add a few details.
My original was a Lancer Lola T160........this is a Truescale Lola T160.
Medium Metallic purple, with some black fogging along the fender lines, with a mustard yellow stripe.
Image resized to 84% of its original size [1069 x 800]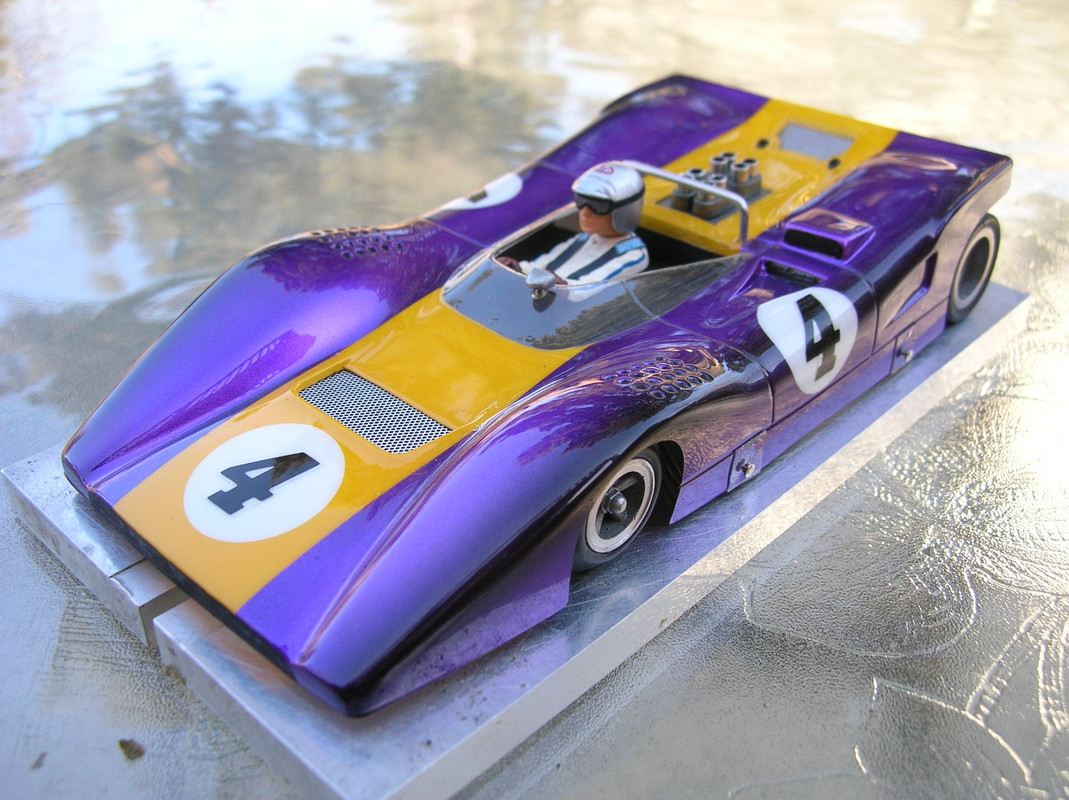 Image resized to 84% of its original size [1069 x 800]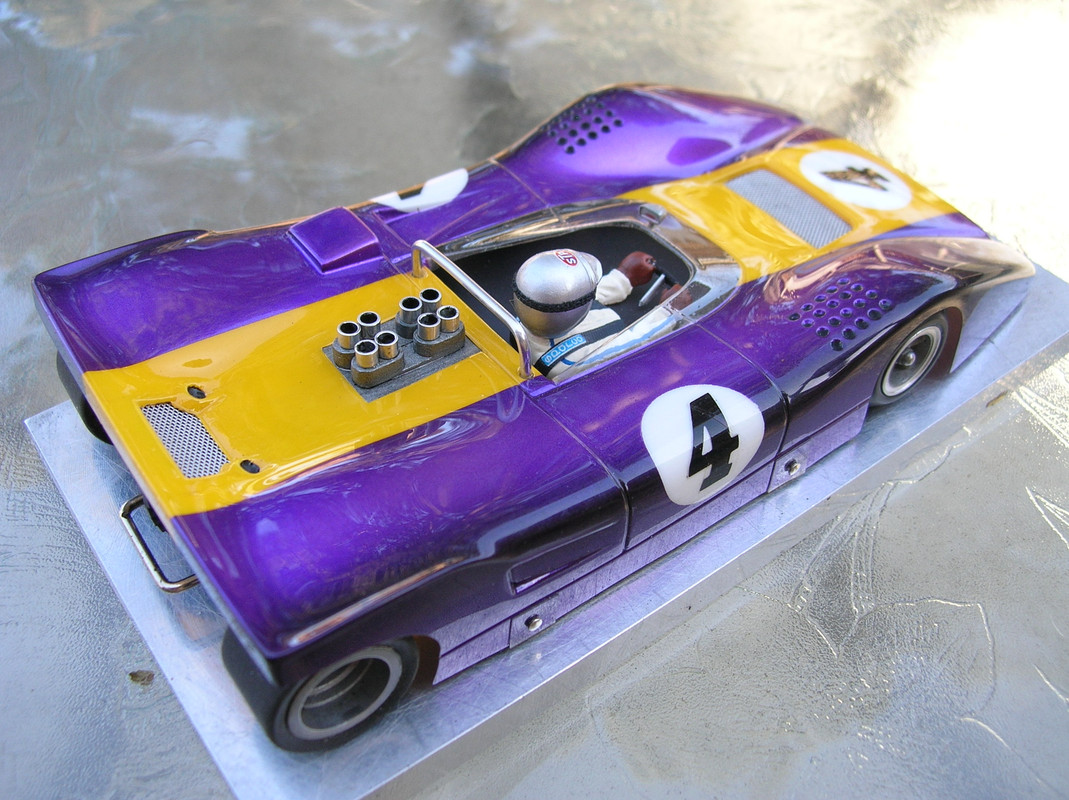 "American Line" cast aluminum 5 spoke wheels front and rear, with Cox "LaCucaracha" knife edge front tires.
Image resized to 84% of its original size [1069 x 800]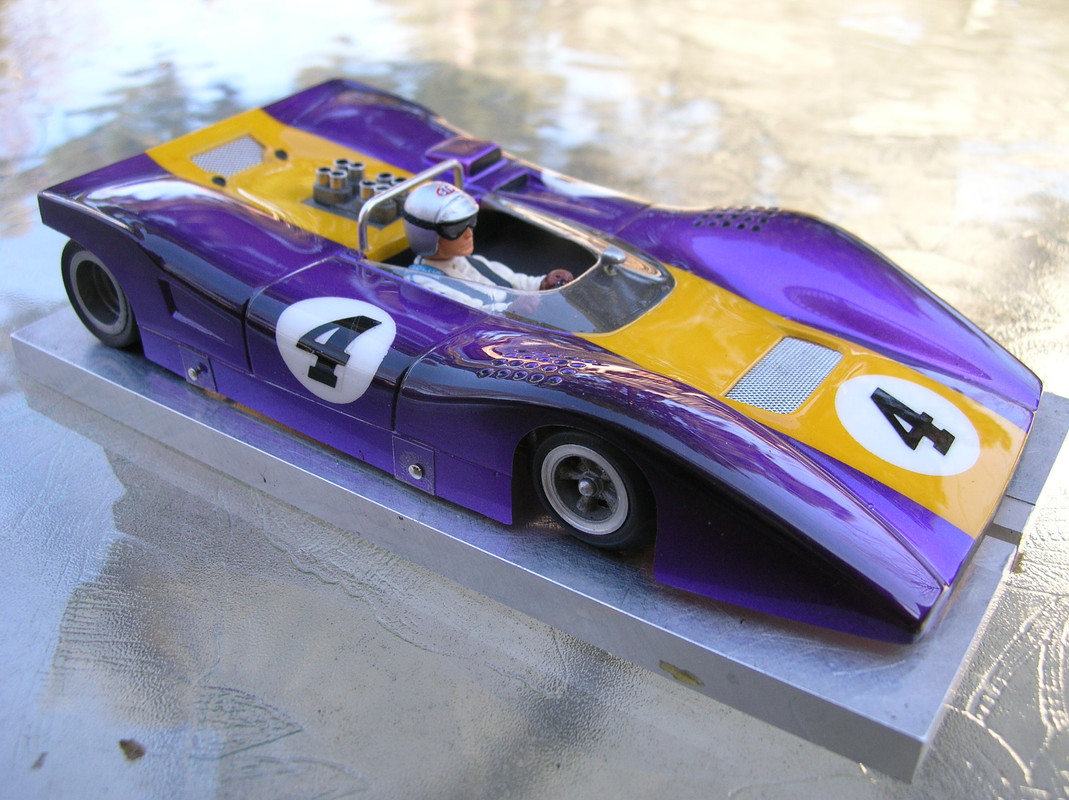 The chassis is a 4 rail brass rod affair that you could buy either nickel plated, or natural brass.......the nickel plated versions did not tarnish over time, and I thought at the time that they looked cooler. As is a good idea with any pre built chassis, the solder joints were "undone" so that any "twists" could be removed, and then re soldered. The joints were left to look a bit "blobby" (as they came from the assembly line).
Image resized to 84% of its original size [1069 x 800]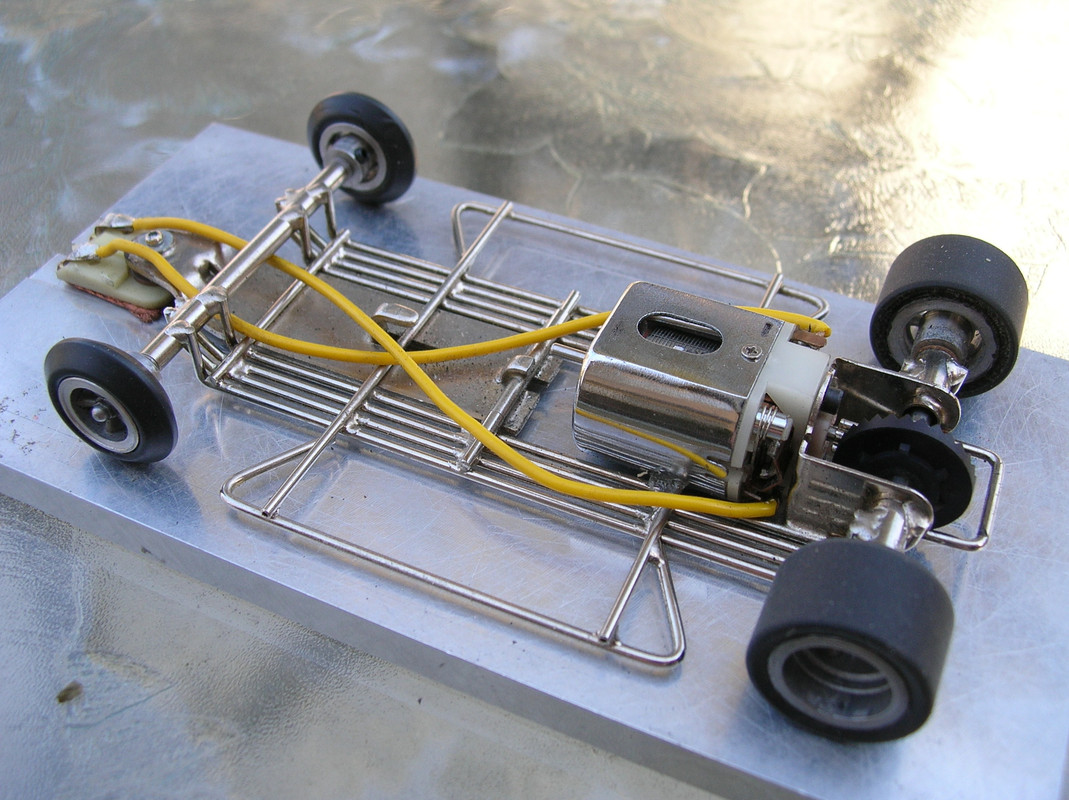 The chassis had a drop arm, and it did not take long to figure out that "freezing" the drop arm in place helped handling considerably.........Thankfully, after 1969 drop arms pretty much disappeared. A bit of dirt on the brushes and on the front of the drop arm are telltales that I took it for a few laps just before picture time.
Image resized to 84% of its original size [1069 x 800]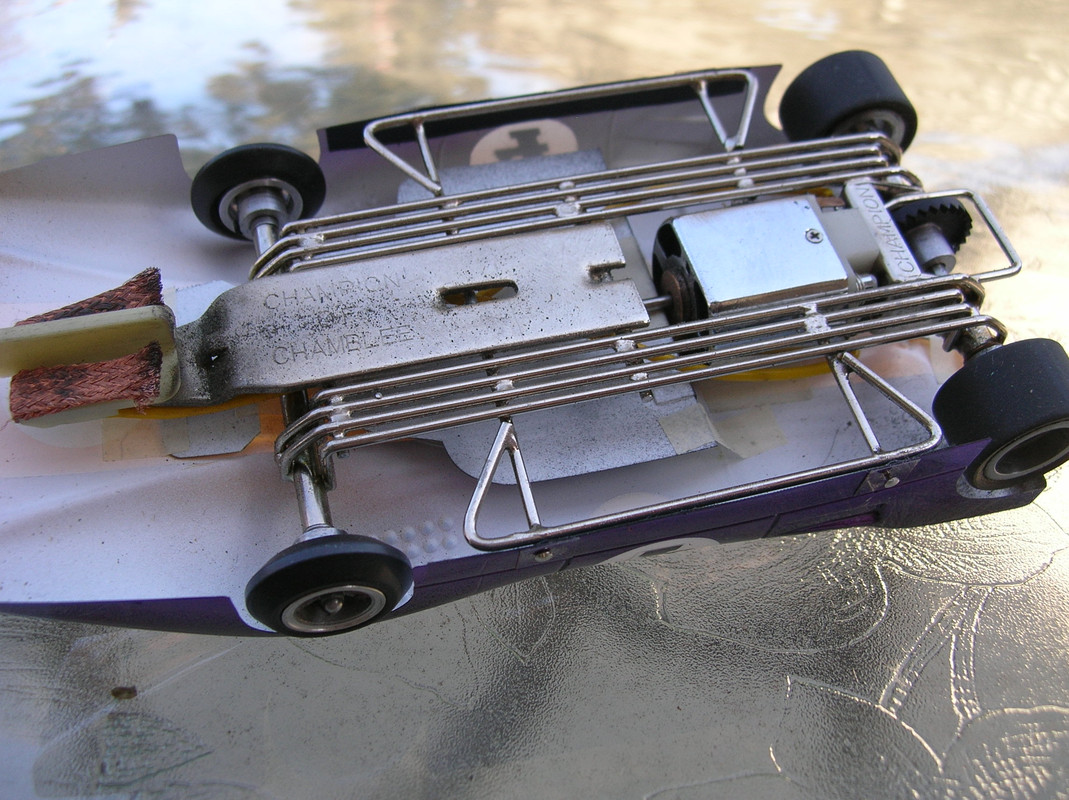 The car is powered by a heavily modified 26D motor, (magnets/shims/commutator/wind/brushes/springs/heat sinks, balancing, etc. etc.) and runs much quicker and cooler than my original "DynaRewind".
It also runs on urethane tires (for my track),...which are not close to the performance of sponge, but I do have plenty of sponge boots should I take it to a commercial track
Image resized to 84% of its original size [1069 x 800]