A full box of 27 Ford vs. Ferrari Proxy cars showed up today, so we're heading towards the start of Round #1 again - finally!
It's been awhile, so let me remind you how we got to where we are now. The Ford vs Ferrari cars were due to me at just about the same time that I received the GT3 Proxy cars. The GT3's arrived first, so we run that Round and to save time, Mike (smokeio) offered to run Round #1 for us on one of the Shoreliner tracks in CT. So, to save time, I shipped them off to him. Enter COVID-19 and what has turned out to be a 2-month shut-down. Now that things are starting to open-up just a little, it's time to get this show back on the road, so Mike has shipped the cars back to me and as you'll see from the pic below - the box it here!
I'll take a look at the cars tomorrow and try to get some pics (unless I've already posted pics - I'll check on that, too - this COVID-19 hiatus makes the past two months somewhat of a blur).
As of now, the qualy will be next Tuesday. Bob Bianchi from Slot Car Corner, the event sponsor, will come down to do the honors and to put in his voting for the concourse prize. We'll finish up the concourse judging before the race; when the other drivers will be available. So, those results will come at the same time as the race results.
The target to run the race is the weekend of May 23rd/24th, but it may get pushed to May 30/31 because of the Memorial Day Holiday.
I'll be streaming both the qualy and the race itself on Facebook Live and will post the links to the events before they take place.
Here's the box - step one!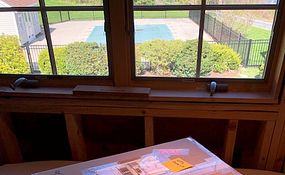 So, we're back on track - sort of - just two months later than we had planned...…...
Stay tuned - I'll keep you posted. Ford vs. Ferrari was always a good match-up and this proxy will, I'm sure, not be an exception to that!
Allan