----
With all of the discussion about proxies starting up, I've received a few PM's lately asking if there will be a CanAm Proxy in 2021. The short answer is yes.

When it will start up has not been determined at this point, because I don't want to schedule due dates too close to those for other proxies. We have a lot of racers who participate in multiple proxies throughout the year, so we need to space things out a little; otherwise, there's just not enough time for the builders/tuners to get their cars prepared. Right now; amid the COVID-19 quarantines and lock-downs, it seems that time is something that a lot of us have in spades. But, when things ease a little (hopefully in a few weeks) and people get back to life as we know it, time, for many, will be just as hard to come by as it was before this pandemic dropped into our collective laps, and probably a lot harder due to the new demands of re-starting our economy.

Right now, we have the next GT3 proxy starting in early November, the new World Championship proxy is, I think, starting sometime in early 2021, as is the Fly Classics proxy. So, I was thinking about, perhaps, an April or May start-up date for the CanAm, with the end of the series completing before the close of 2021. The 2019 CanAm had a car due date of May 1st. I'll need to get a better handle on the start dates for the other proxies before I set the start date for this one, since they're already posted and registrations are open.

For those who'd like an advance peek at the Rules, here's a clip from the 2019 CanAm. I expect that the rules will be, pretty much, the same, although we may make some changes to spice things up a little.
Draft Rules (taken from the 2019 CanAm):
Eligible Cars: ANY purpose-built, open cockpit Can-Am car that participated in at least one race in the Can-Am Racing series during the period 1966-1974. FIA cars that also raced in Can-Am events are not eligible; this excludes the Porsche 917k and the Ford GT-40 Mk1.
Body: ANY injection molded, resin cast or 3D printed body in 1/32 scale.
-----No changes to wheel wells allowed and no body lowering that gives the car a "slammed" look. These cars were low enough!
-----Lightweight interiors allowed, but must be 3 dimensional and painted to show drivers head, shoulders, arms, steering wheel and dash, and a roll bar.
-----Entrant's name must be noted on underside of car as well as instructions for body float adjustments, if any.
-----Car numbers must be unique; no duplicate numbers.
-----Tires must fit fully under the fenders. Tires may NOT project beyond body work when viewed from above.
-----Clear window material must be present; whether a windshield or a windscreen and may be vacuum formed.
-----Bodies must be removable to allow inspection and photography prior to the first race, if needed, and to allow maintenance and repair during the race series.
Chassis: ANY chassis that is stock, aftermarket, scratch built, or 3D printed using any material, is eligible.
Podded or non-podded chassis allowed
-----Inline / sidewinder / anglewinder configurations all OK
-----Underside of car chassis and body must clear track road surface, on level track, by 1.0mm minimum (clearance). (we may revisit this one and go with no clearance spec)
-----Guide must be entirely under body, and NOT visible when viewed from above.
-----Traction magnets are NOT permitted.
-----Suspension permitted
-----Axle bushing and bearings are allowed on front and rear
-----All chassis MUST be mounted like an RTR car - meaning screws through the chassis to body mounting points and no pins THROUGH the body, Velcro, etc. However, a chassis with side mounts such as the HRS/HSR-2 can be used - as long as the pins do NOT go through the body. (we may also revisit this one)
Gears: ANY stock or aftermarket gears and ratios of your choice may be used.
Motor: ANY commercially available FC-130, FK-130, FK-180 (including Flat 6 models) or FF-050 motor.
Motors may not be opened or modified in any way versus the stock commercially available motor; external capacitors may be removed
Wheels: ANY plastic or aluminum wheels; provided that they do not alter the period look of the car.
Wheels must have period inserts or look reasonably period for the car - no BBS or blank aluminum insert wheels please.
Tires: ANY Rubber tires; provided that they do not alter the period look of the car / the maximum track; front and rear, may not exceed 62.0 mm measured outer sidewall-to-outer sidewall.
Tires may be cleaned in any manner prior to shipping them to the first race, but may not be prepared by oil-soaking or other chemical means.
Nail polish or clear coating of front tires is allowed. No 0-ring tires on the front, but front tires may be profiled.



So, there's your peek. In keeping with the tradition of the original CanAm series, everything is pretty much, open. If there are changes to be made, they'll get fully vetted on the forum before we put them in place.

I'll probably target getting the Rules up towards the middle of November, which will give all the builders and the hosts about 5-6 months to get ready.

Allan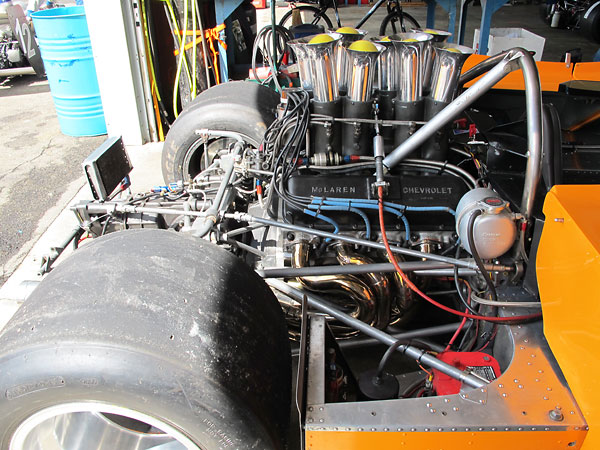 Can you hear it...………..?
No...? Then try this...…………………...
https://youtu.be/4kPGOpC0LlQ