So about mid week this past week, Wild Child and I learned that Crawford County Speedway (north of Van Buren, AR) was having their annual "Hillbilly Classic" in conjunction with "Fan Appreciation" night. The appreciation was free a BBQ dinner with a Gate ticket. We've talked how we used to enjoy sitting in the stands and enjoying the racing at CCS, and decided to make the trip and give up the sleep in order to attend. (If you attended races, you know they typically don't finish until midnight or later. Our responsibilities at our church has us up and at'em at 6 AM and once there we're there until noon. Long morning.)
Missing some sleep was WELL worth it. We both had a blast! First thing we noticed is that the new owners have really cleaned up the place and made substantial improvements. It no longer had a "used" (run down) feel. The pulled pork and BBQ sauce were EXCELLENT. Also on the plate were baked beans, potato salad, and cole slaw... all downed with sweet tea. OH and I learned via their FB page that I had won a "Walkin' Taco" and 20oz drink! (I hit the concession stand right before Intermission to pick it up, and Wild Child helped me with eating it. We go
most
of it down. It was
huge
... and it too, was DELICIOUS!)
Here's a pic I snapped of the picnic table area set up for the "Fans Appreciation" night:
Also, seeing as Crawford County AR is still a dry county, there were no raucous drunks to deal with as the night went on. CCS advertises as being "Family Friendly" and they were right! Lots of entire families and lots of kids were there enjoying themselves throughout the evening.
I'm the type that when I go to the races, I want to experience ALL of it... cars packing the track, hot laps, EVERY THING. That so, it should come as no surprise that when I heard some of the race cars firing up for track packing... to the stands we went! (We had been sitting under a big shade tree by our pick up track in our lawn chairs enjoying the pleasant breeze.) The "Family" feel was driven home in that they allowed family n' friends to ride with the drivers as the slowly packed the track! (Don't know because it was "Fan Appreciation Night", of that's common.) Anyway, waves and smiles a'plenty from the friends n' family members!
All through the evening's experience, there really were some good vibes going on. Everybody in the stands was friendly, you didn't meet any strangers... just an all around great "stands" and spectating experience.
Pics n' Media....
Snapped a pic of one of the "Grand National" heats starting to rumbling by slowly on their way to the start:
Almost all the racing was nice and tight. (That is where short tracks RULE.) At least 80% of the races finished with only a car length or two at the finish line between 1st and 2nd... some of the races 1st and 2nd were side by side out of Turn 4 to the checkered flag!
The GN A Feature had something like 18 cars in it. Snapped a couple pics during the driver introductions:
I even shot some short video clips!
Here's one of the Modified Heat races: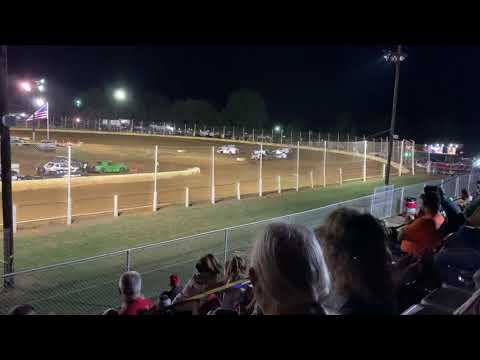 And here's the start of the GN A Feature: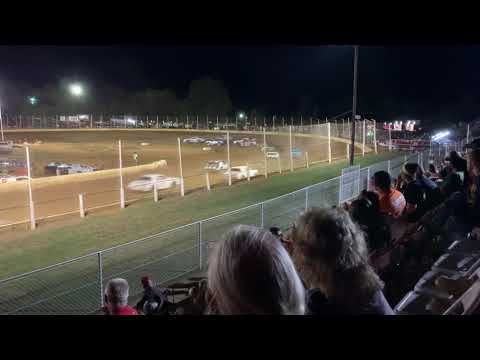 In all, it was a great evening and both Wild Child and I enjoyed it tremendously.
We won't be able to attend regularly (we really gave up some needed sleep in order to be there) and (for the first time ever) I got up and left before the last race was run! (The FWD Feature.) Even with leaving before the last race had begun, we didn't get in bed until about 1:30 AM. (Boy, did 6 AM ever come around AWFUL early this morning!)
HOWEVER...
We are going to try to attend their "big doin's" events next season, so maybe once a month or so, we can make it a "night at the races"!
All fer now!
Andre