So I've salvaged my ill-fated digital oval idea from some 10 years ago. (There's a thread running in the "Digital" forum if you've just gotta' read up on my trials/tribulations of exploring the idea of resurrecting my D132 dirt oval idea.
)
Anyway, long story short: I've got the fixes in place and/or addressed, and I've learned how to program cars adequately enough that I have the performance features/levels where I'm happy with it. It now appears that my D132 dirt oval idea is giving all indications that it's going to be fun and will offer an entirely different set of experiences compared to my vintage analogue slot interest.
Flushed with last night's success, today I dug out some of my dusty stuff to see what projects I have that could be pushed to completion.
First, my three lexan bodied D132 COT-based cars can now be painted. Here's one example, in this case a Buick Regal (that I've intentionally distressed so as to appear to have some rootin' n' gougin' dents n' dings):
Then I remembered an undecorated Carrera '57 Chevy body I had started on long ago to convert to a dirt car. I dug that out, and slapped the in-rpocess body onto the only D132 '57 Chevy frame I have. I can go for one of two "looks".
First, there's this small tire look that hearkens to the mid-60s:
Then there's the larger tire look of the late 1960s/early 1970s...
I know which one I'm inclined toward, but which version (if either) appeals to you?
Lastly, some of the criteria for successfully reviving my digital dirt oval idea was for the cars to perform to my satisfaction in regards to speed and drifting ability. I've come up with a speed step and chassis set up (zero magnets) for the driver car that provides good action and the cars are slow enough for acceptable functionality on the very short digital oval w/lane changers I have. The automonous cars will need to have full magnets in order to hold the slot well enough to get their speeds up to the point that I have some competition to play race against.
Here's a short clip of the above car making a couple of laps. (Note: Video slowed to half-speed.)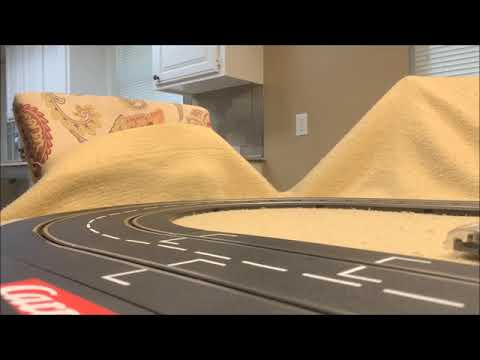 Ain't this a'goin'???
erdnA