So here's a little about our Calgary, Alberta based club that races 1:32 (analogue) slots on routed club tracks located in members homes. The club was rebooted in 2015 and we currently race at 4 different tracks:
Mugello, 3 laner built in 2007: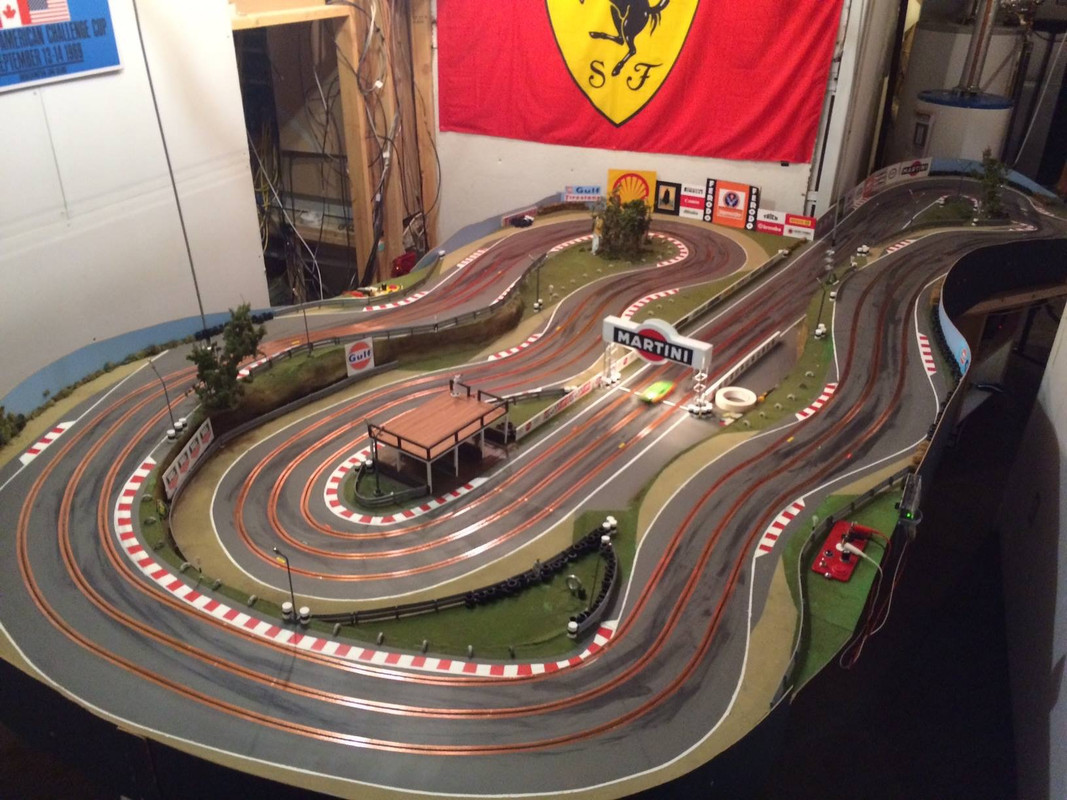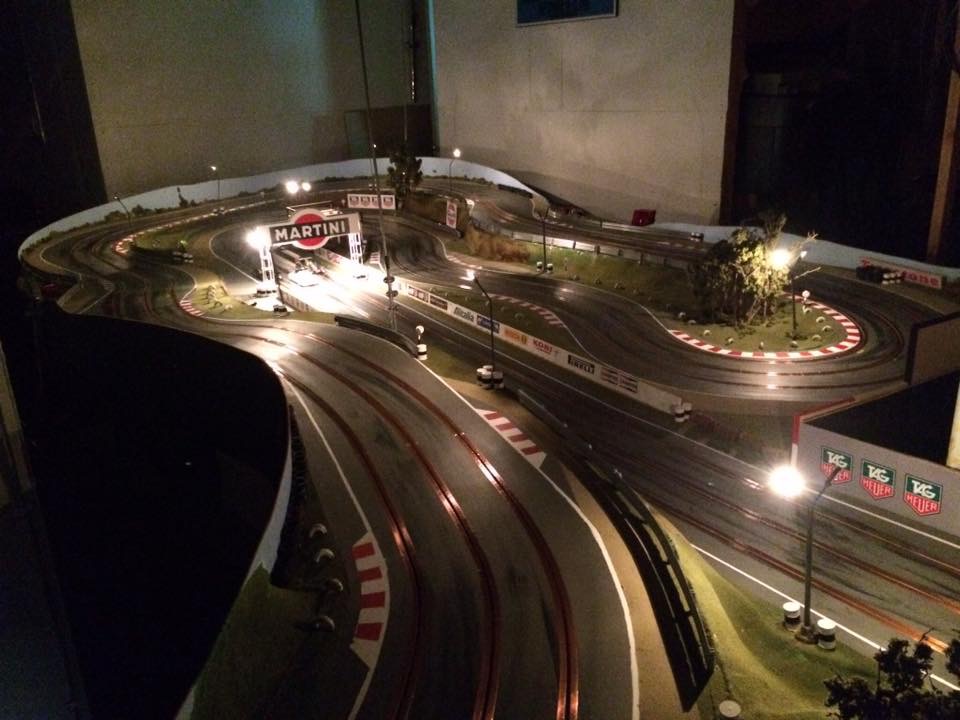 Al-Dorado, 4 laner built in 2018: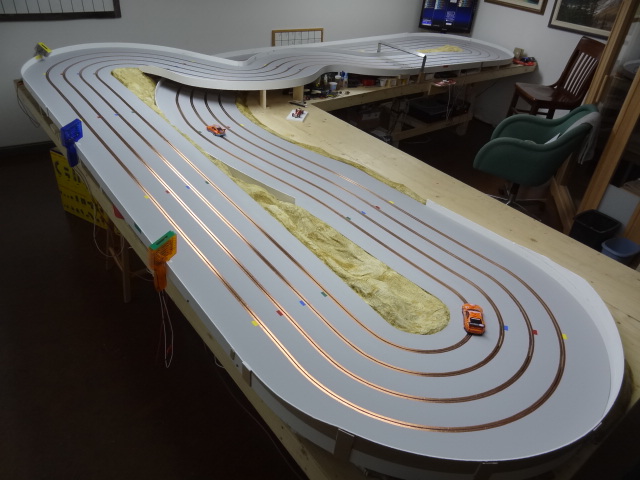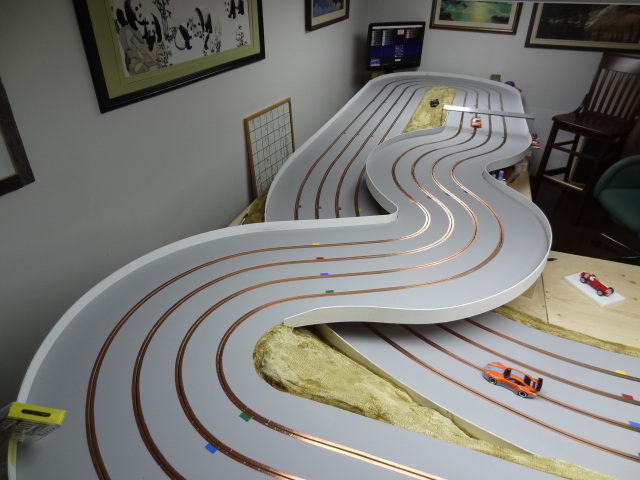 Dartschleife, 3 laner built in 2018: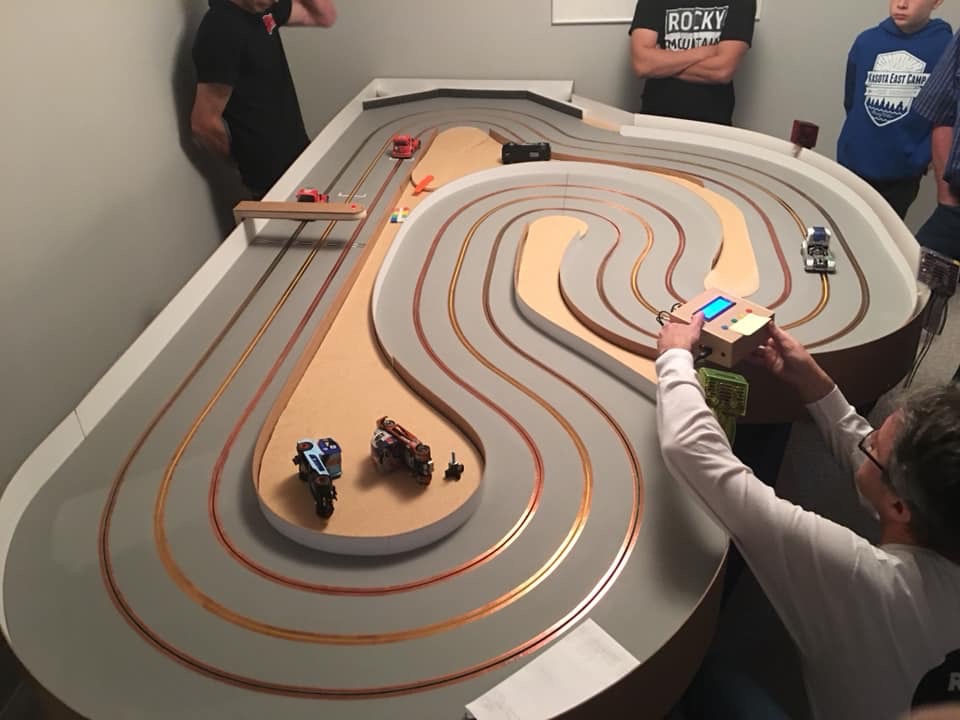 Tom-a-dega, 3 laner built in 2018: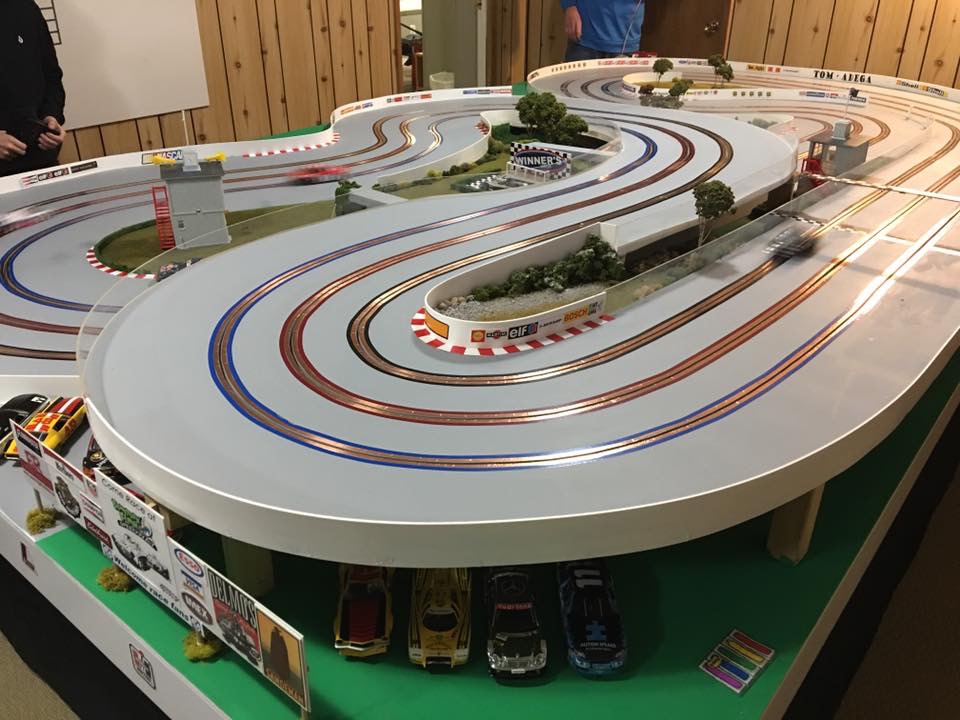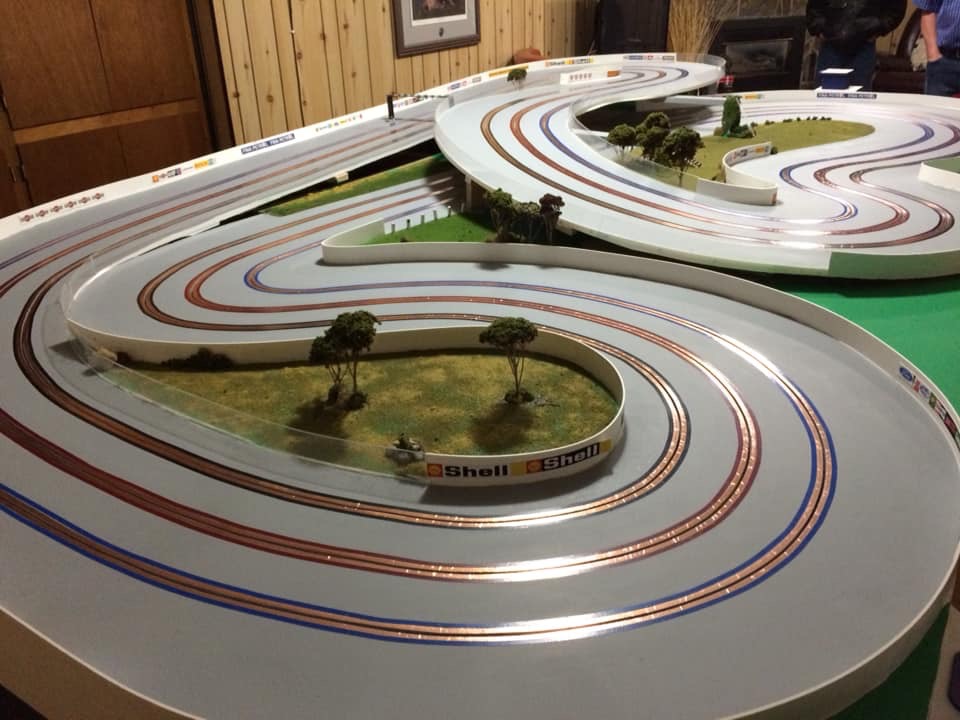 We've also had races at Silverado, a 3 laner built in 2016 and currently in hiatus: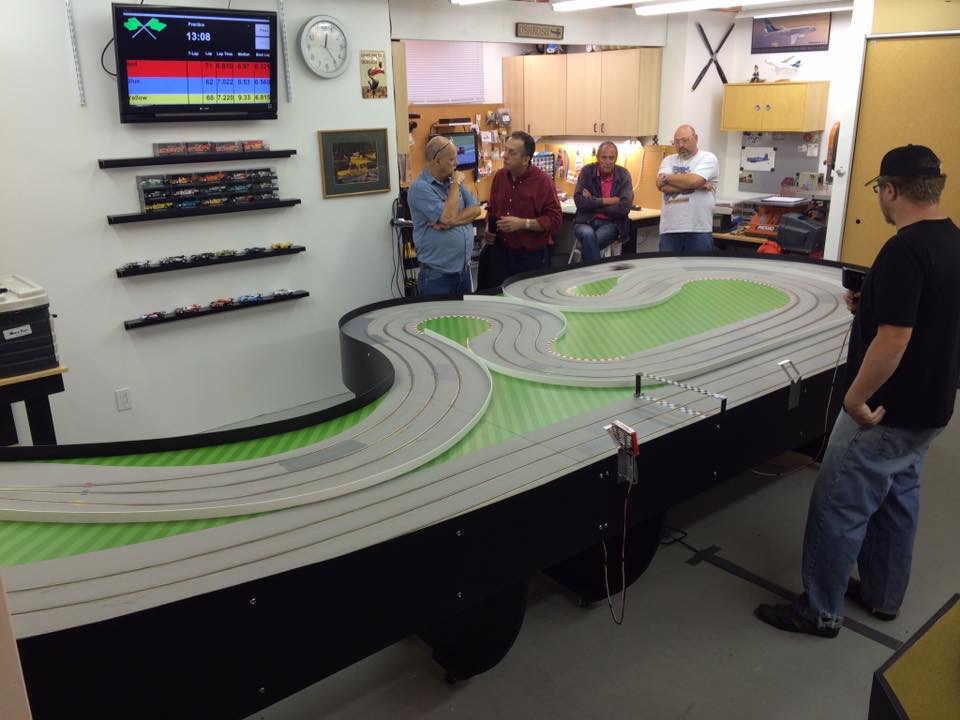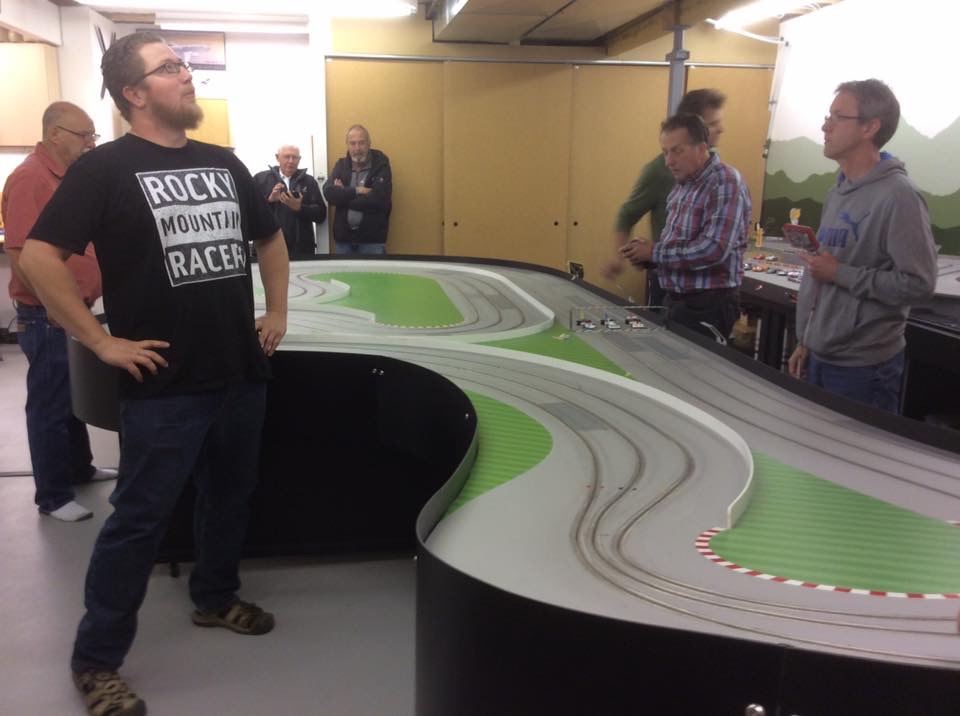 The now defunct (due to a move) 6 laner, Copperhead built in 2016: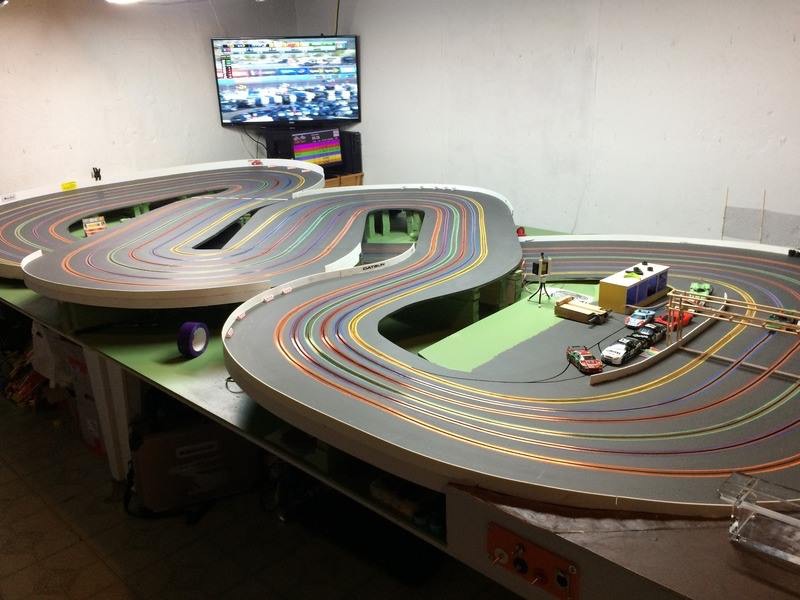 And a 4 laner, Racers Haven Speedway built in 2014 and sold in 2017: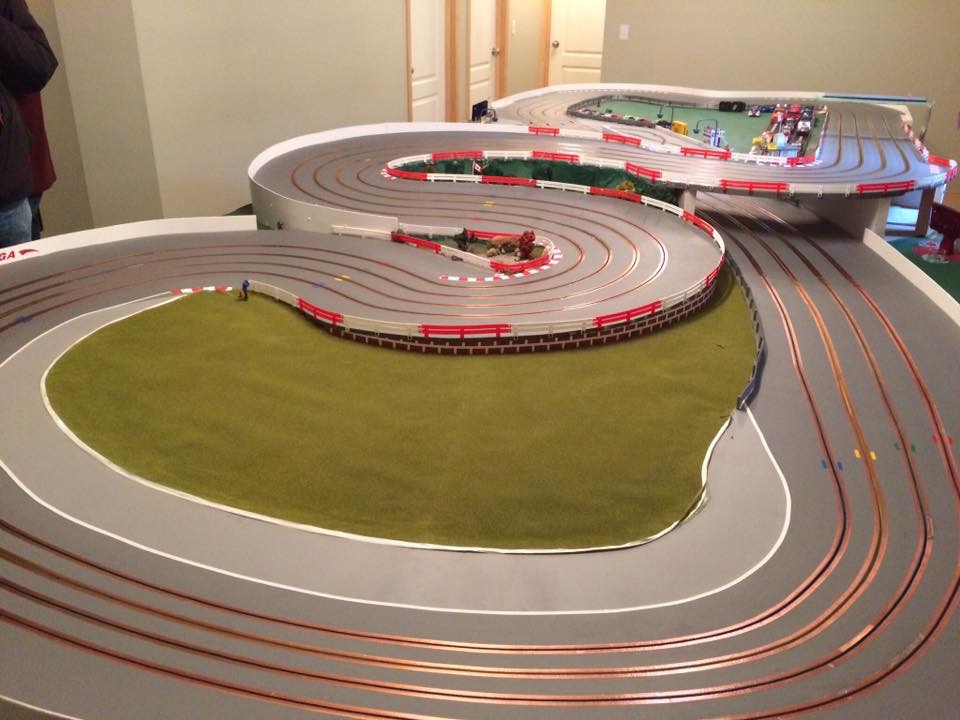 Most of us all started on plastic track and have moved to the "dark" side LOL.
Our club size has fluctuated between 6 and 16 racers. Right now we have about 10 full timers. We race 10 classes, stock motors, gear ratios, all on urethane rear tires:
1. Scaley Modern Sidewinder NASCAR
2. Fly LeMans Classics (1965-74)
3. Carrera Modern DTM
4. Fly Racing Trucks
5. Scaley and Pioneer TransAm
6. Sideways Group 5
7. Slot.it Group C
8. TSNP Classics - Thunderslot, Slot.it, NSR and Policar
9. Fly F1
10. IMSA - Modern GT and LMP (1994-present), open tuning motor max. 22k
We rotate though each class so that every class is raced approximately the same amount time to help justify the cost/investment people make for each class car.
Our race season starts the weekend after Labor Day and runs to the beginning of April. We race every other weekend, skipping long weekends and the Christmas break.
Racing is split into two seasons, Fall and Winter, with 7-8 races in each season. Racers will keep their top 5 races, dropping the two lowest or no shows. By having two seasons, with a reset it helps with overall engagement throughout the year.
We used to race for "points" in each heat (20 laps) in a race to the finish. Scoring was 10 points for 1st, 8 for 2nd, 6 for 3rd and 4 for 4th on the 4 laners. And we used point scored out of available point to determine a (Index of Efficiency - i.e., a percentage of points scored from total available points) to help seed racers so like ability drivers drove head to head in these sprint races. The intent being as people improved they moved up the ladder they raced against better competition head to head (and vice versa) to prevent newer racers getting blown out by experienced racers.
Now we are trying something new with random driver draws, racing against the clock in 4 min heats for total laps in the Fall. For the Winter season, we are trying something very different...basically an enduro for each race, team and individual, should be interesting.
We also set a race schedule and rotate through the 4 tracks so hosts can plan for their rounds and so everyone has clear line of sight to when and what we will race.
From a rules perspective, at a high level, it's stock cars with basic tuning and urethane tires...to reduce, manage costs and reduce barriers for new people to join. And it helps to maintain a somewhat level playing field. There are better tuners but we're all open about our "secrets". With the older classes, we are permitting aftermarket parts provided they are the same size wheels, gearing ratio etc to help for ongoing maintenance where OEM parts aren't available.
Something else we do is do race write ups with a flavor of humor to recap the day, it helps to add to engagement and overall fun for the environment.
So to sum up a very long post...we run our club under 4 simple principles to keep it healthy:
1) keep it fun
2) keep it simple
3) keep it fair
4) keep it organized
We are heading into year 5, and if there is one thing we've learned, we need to be constantly tweaking things through discussions and surveys to keep things fresh and make sure we keep as much fun in it even though we are racing.
The first four years of our club are here in the club section here under Rocky Mountain Racers (RMR):
RMR history
Our 2019-2020 season schedule: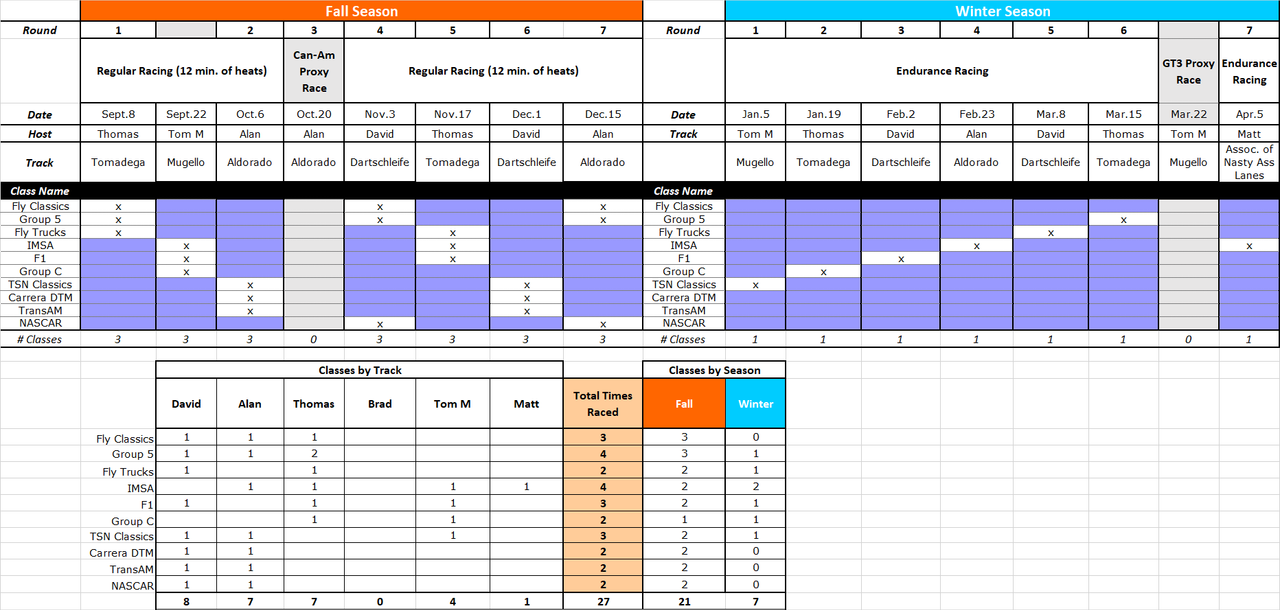 Starting for the 2019-20 season, we will be trying out HRW ... we also have our Facebook page that has more pictures and videos all the time:
RMR Facebook Page
We can be contacted through Messenger on Facebook, private message here or via email at:
[email protected]
Cheers, eh!
Tom