I've never experimented with NSR's Extreme compound tires before, but this COVID-19 pandemic has provided me with a little more free time lately, so I decided to give them a go.
I glued and trued them to some new CBDesign wheels, trued them up and put some laps on them. Here are my observations, so far:
On the plus side, they're very easy to stretch over the rims and they seal well. Also, on the plus side, they will true if you go slowly, Finally, once mounted and on the track, they are a fast tire and if your car happens to be suffering from tire chatter, this is one way to cure that.
On the minus side, truing is not easy. These tires are very soft and oily and if you're looking for a tire that will "burn" easily while trueing, this this is your huckleberry, for sure. I stopped several times, wiped the tire clean and proceeded from there. A combination of a very low truing speed and very light pressure finally produced a good result; in terms of both the sidewalls and the contact patch.
Also on the minus side - these are definitely low-lifetime tires! I use a sticky pad to clean my tires and as I continued to swipe the tires after consecutive 30 laps tests, more bits of rubber kept appearing on the pad. I expected this for the first few swipes, but it never ended and I finally took a close look at the surface of the contact patch and what I found is captured in the pic below.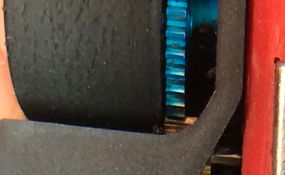 What I found was a series of pits and irregular splits in the surface of the tires - both sides. This pic was taken after about 120 laps on a 67' routed wood track with a smooth flat latex finish. So, it's clear that the tires were chewing themselves up while showing very high traction. Note: the bits on the outside sidewall of the tire are just the "NSR" letters standing out. This was a well-trued and very smooth tire when it first hit the track. Click on the picture below for a better view.
From this, I would probably only use the Extreme compound tires for short sprints and with very light cars; figuring that the heavier the car, the more rapidly the tires would chew themselves up.
Traction is very high - in my hands, higher than NSR Ultragrips, and Slot.It N22's and N18's, but longevity is a major problem which, for me, takes it out of the realm of proxy use, since 120 laps is only about 3-4 Rounds for most proxy series.
Anyone out there with a similar/different experience?
Allan