This particular project had been hanging fire for maybe a year? I'm not sure what got me off the dime, but I decided to work on it some more and get it operational.
That is, a wet sanding station for 1/32nd tires, with the ability to handle a complete wheel/tire/gear/bushings/axle assembly. In this case one off of a Carrera slotcar. Specifically for a Carrera rear axle assembly because everything is pressed onto a knurled axle and cannot be disassembled/reassembled without damaging the wheels and crown gear.
The Carrera tires were already glued and trued. Truing done on my Professor Motor machine. The wet sanding was done to polish the tires. The Professor Motor truing station spins the tires too fast to do a proper job of polishing them. And popular wisdom is the Carrera tires need to be polished to get maximum grip.
So the wet sanding station was designed with a shallow pan to hold a wet grade of sandpaper -- in this case 400 grit -- and a few cc's of water/dishsoap solution. Said dishsoap was Dawn brand dishwashing liquid.
The dishsoap solution -- mostly water -- serves two purposes. It keeps the tires cool plus it lubricates the contact surface. Both prevent the stick/slip that causes chatter marks.
The drive is by a 12 volt gearmotor that runs at approximately 100 RPM. The low speed prevents the dishsoap solution from foaming and splashing. The same pulley that came with my Professor motor machine was used here, instead of a timing pulley I'd modified, because the timing pulley was too wide to fit. So the drive belt was an O-ring rather than the timing belt I would have used otherwise. I had to use a very light contact pressure to keep the O-ring from slipping. Contact pressure, by the way, was dialed in using the micrometer feed that lowers the plate that supports the drive and axle.
One feature I would add to this wet sanding station -- something I hadn't come up with back when I designed this thing -- is a shifter mechanism. That modification is in the works.
For now, the following video shows how the whole business performs...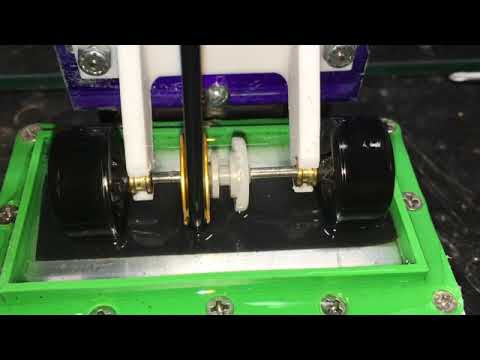 And here is the finished product, below.